VENTUS 2c/2cx - gallery
Technical informations
Scale
1:3
Span
5 m / 6 m
Length
2,35 m
Profil
HQ 2,5 (wood wings) HQw 2,5 (moulded wings)
Central of gravity
95-100 mm from LE (leading edge)
Elevator
+8/-16 mm
Rudder
L / R 45 degrees
Ailerons
+8/-13 mm
Flaps
+3/-2 mm
Ventus 2cx - Gro▀seglertreffen MFC Grenzland 2008 (Christian Koch)
Video section
Ventus 2cx - pilot Rod Watkins (Australia)
Pictures and his installation (clic to the picture)


Ventus 2cx with AFT 19 rewiew by Markus Kellerer in AUFWIND Magazine

...with friendly acceptance
from AUFWIND Magazine !(pdf 10 Mb)






Ventus 2cxM D-KGUY




>>> complet guide of model installation <<<




| | |
| --- | --- |
| Real Glider | Model |
| | |




Trailer family





Simon Cocker - Cocker Flying Holiday (amazing place for soaring!)



---




Mr. Christian Koch (DE) sent us link
to his web site about his Ventus 2cx
from LET MODEL CZ.
Thank you very much for this link and enthusiasm !

Ventus 2cx with SLS 22

Pictures of Ventus 2cx 6m winglets
Ventus 2c with AFT 19 maiden flight
Comment of the pilot
...The maiden flight of LET Ventus 2cM with an AFT19 X from Florian Schambeck and 10s1p Lipos. After I flew the Ventus for more than two years now (I bought it from Ueli Nyffenegger), I decided to mount a retractable engine because I was so satisfied with the flight characteristics of the Ventus and I wanted to be more independent from any towing planes. What should I say, the power was quite enough to start from our very short airfield (~100m) and climb rate was ok. The additional weight to the former 12.5kg is about 2kg and will be even less (~1.3kg) when I will replace the steel bar by one made of CFK in a steel tube.
(Wolfram Just-Germany)


Gallery - Ventus 2c/2cx
Ventus spec.color scheme
Ventus 2cx in red design, looks great...




Karel Vencel (CZ) - Sunday maiden flight of his Ventus 2cx (thank you for pictures very much!)


---



Ventus 2c/2cx blue bottom wings



FLY MODE
Ventus 2c / pilot Bill Maisey (UK)


Rolf Mader Ventus 2cx


...and others...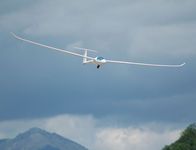 Ventus 2c in Hahnenmoos